Last night I found THE trick to faux painting the Weeping Angel wing feathers: one of those hand-held little net shower scrubby things on a handle.
The net works perfectly to blend the black & white paint blobs without overblending them into an amorphous, boring gray. It leaves little flecks of color, much more like natural stone. Here are a few of the completed feathers--they look a lot darker & better in natural light without the camera flash, though: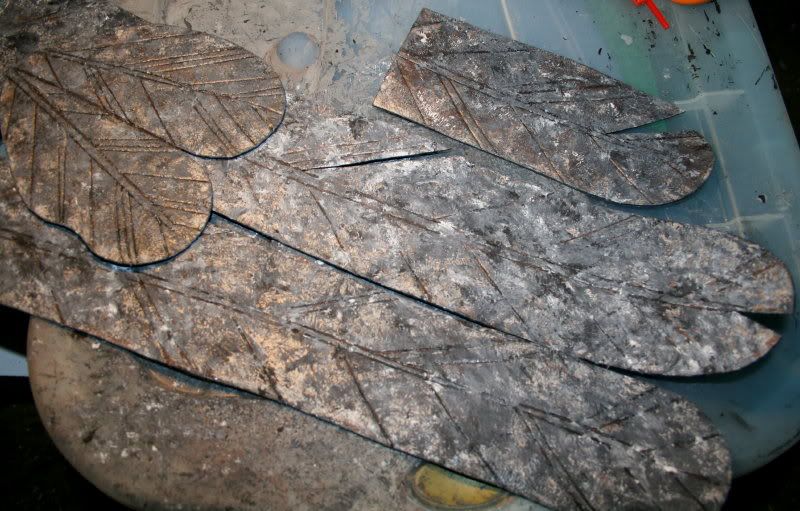 And yeah, I have paint & Modge Podge EVERYWHERE but I'm not going to bother cleaning off my work surface until I'm done.
Once I caught on to the trick, I had to repaint a few of the feathers so that they would all have the same look, but so far it's the only thing false step in the process. Not bad considering I have
no idea
what I'm doing and am learning as I go. The only other faux painting like this I've done was years ago to marbelize a big, old steel desk I had, which actually came out kinda cool and really looked like it was carved from green marble...but I credit the faux painting kit and excellent instructions for that more than me.
So the finished feathers start off with a basic gray undercoat, let dry. Then I applied the black/white sponged-on paint, let dry. Then for texture came the matte Modge Podge, also applied with the net shower scrubby thing in big, thick, globs; let dry. Finally I thinned a bit of 'Iron Oxide' color paint with water and applied it in long runny drips, allowing it to run down the feathers, let dry. The final runny brownish color is to help simulate age. I also sponged the black/white onto the foamcore wing bases in case they showed through the foam feathers.
A close-up of the feathers: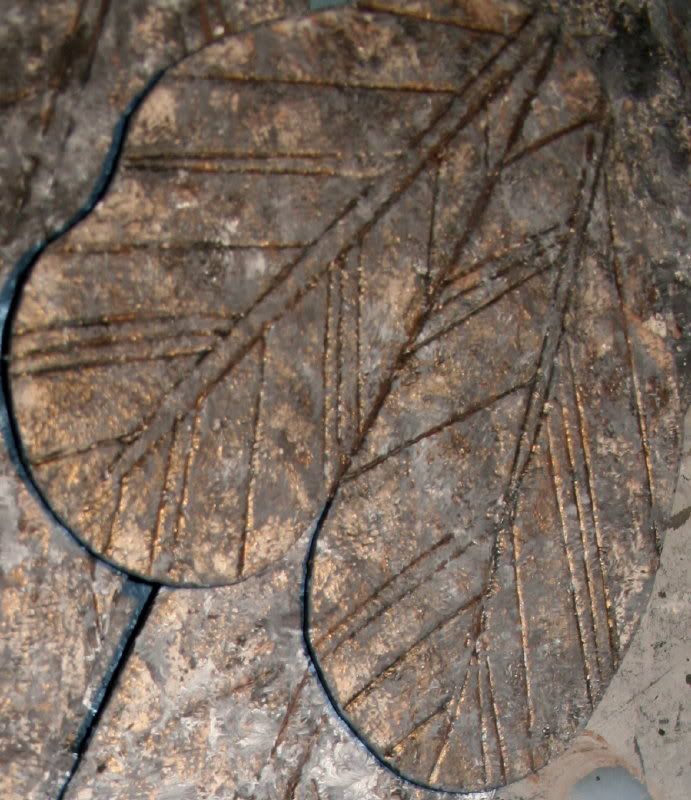 I may add a hint of sponged-on sage green color here and there to simulate old moss. I thought of adding a bit of real sphagnum moss here and there, but we'll see how it goes.
I still have more feathers to make, I'm pretty sure I don't have enough yet. I also have to paint the dress & tights...but I want to wait on that until I get the wings done--I'm glad I hadn't done it yet since the new painting technique I did last night dramatically changed the feather design. I'll also have to go over the wig.
Tomorrow I'll get the straps & buckles for the harness...I plan on hitting the thrift stores for old backpacks to cannibalize for backpack strapping, I also need thin gray fabric to glue to the chicken wire supports inside the wings. I can get that at the thrift store too, and since it won't show I can have more leeway as to what it looks like, any old shirt'll do.
Now to design the harness!